Tuesday, November 30th marks a "Day of Giving" and the beginning of the "Season of Giving" at iSTEM. If you are considering supporting a local non-profit organization, please consider iSTEM and help us impact the lives and futures of our student Innovators! Give the gift of a STEM education by going to
www.istemghs.org
and clicking on "DONATE". No gift is too small. Every donor and every dollar counts.
Are you HUNGRY to HELP? iSTEM students are invited to attend a Pancake Breakfast to benefit a Spring Eagle Scout Project for our fellow iSTEM student, Braden. Pancakes will be available on Thursday, December 2nd from 7:30-8:30 in the gym for $3.00. All proceeds from this breakfast will be donated to Braden's Eagle Scout Project Fund to purchase materials to build picnic tables for iSTEM. It's a win-win!!! Help us fund this worthwhile project!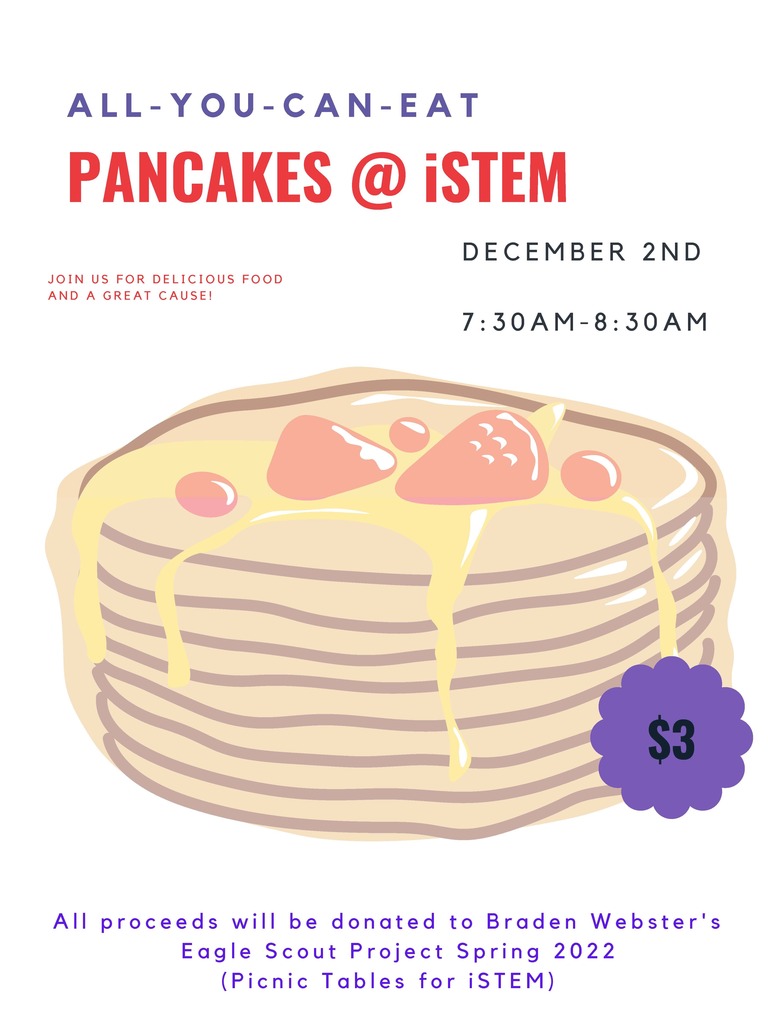 Want to learn more about becoming an iSTEM student for the 2022-2023 school year? Join us for in Informational Open House on Thursday, December 9th at 6:00 p.m. at iSTEM, 1800 Mentor Ave, Painesville. For more information call 440-898-3283. Now accepting registrations for grades 7-12.
Join us November 15th-19th for our Thanksgiving Food Drive supporting local food banks in Lake and Geauga counties.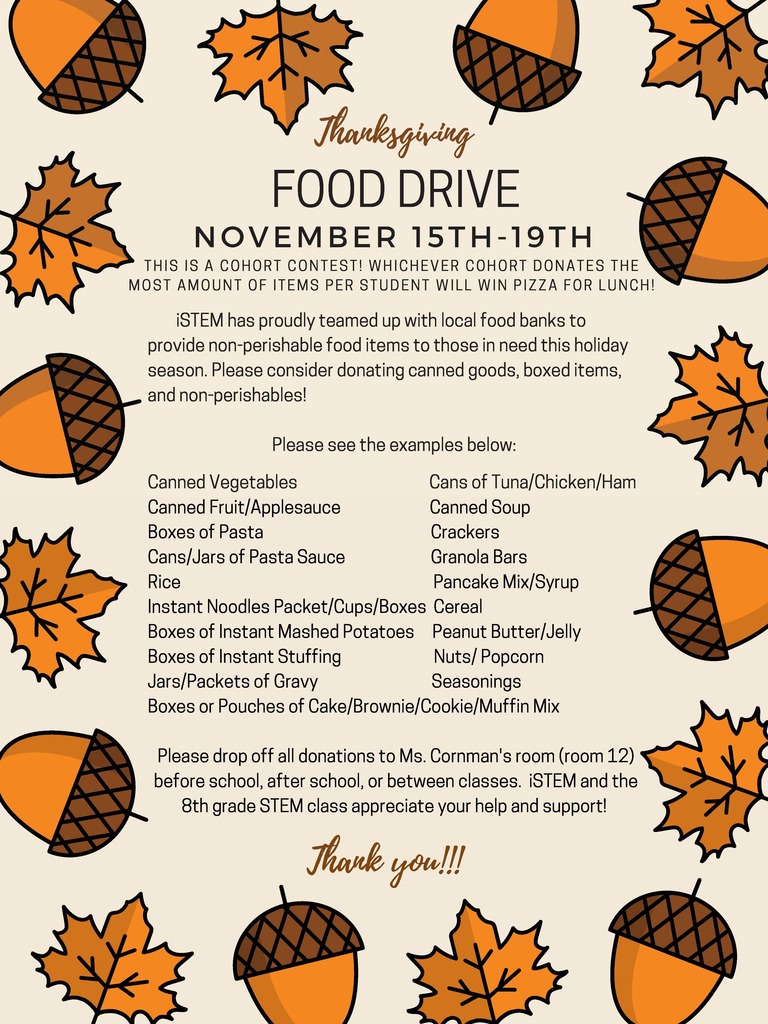 Thank you iSTEM students and families for supporting the Stuff the Subaru with Adventure Subaru. All donations support Project Hope for the Homeless.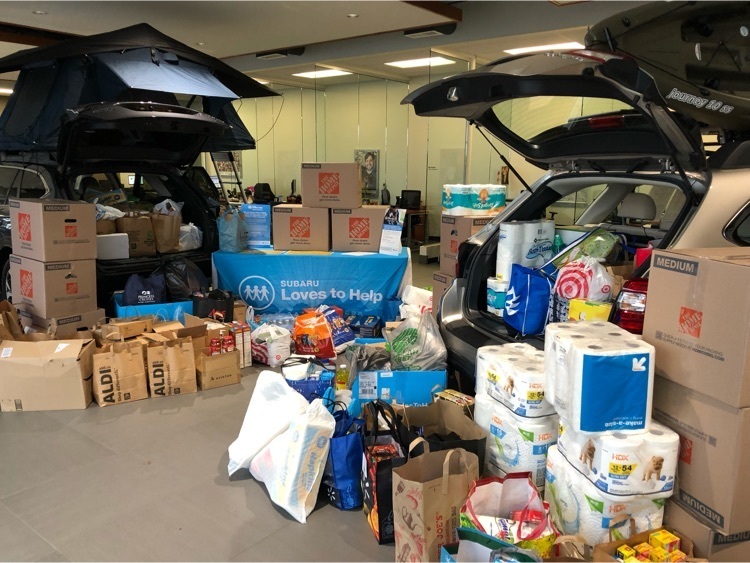 Stuff the Subaru at iSTEM, 1800 Mentor Ave., on November 12th between the hours of 7:00 -8:30 a.m. and 1:30-3:00 p.m. iSTEM along with it's partner Adventure Subaru, will be collecting items to support Project Hope for the Homeless, the only emergency shelter in Lake County. If you would like like more information about this event, please call iSTEM at 440-898-3283.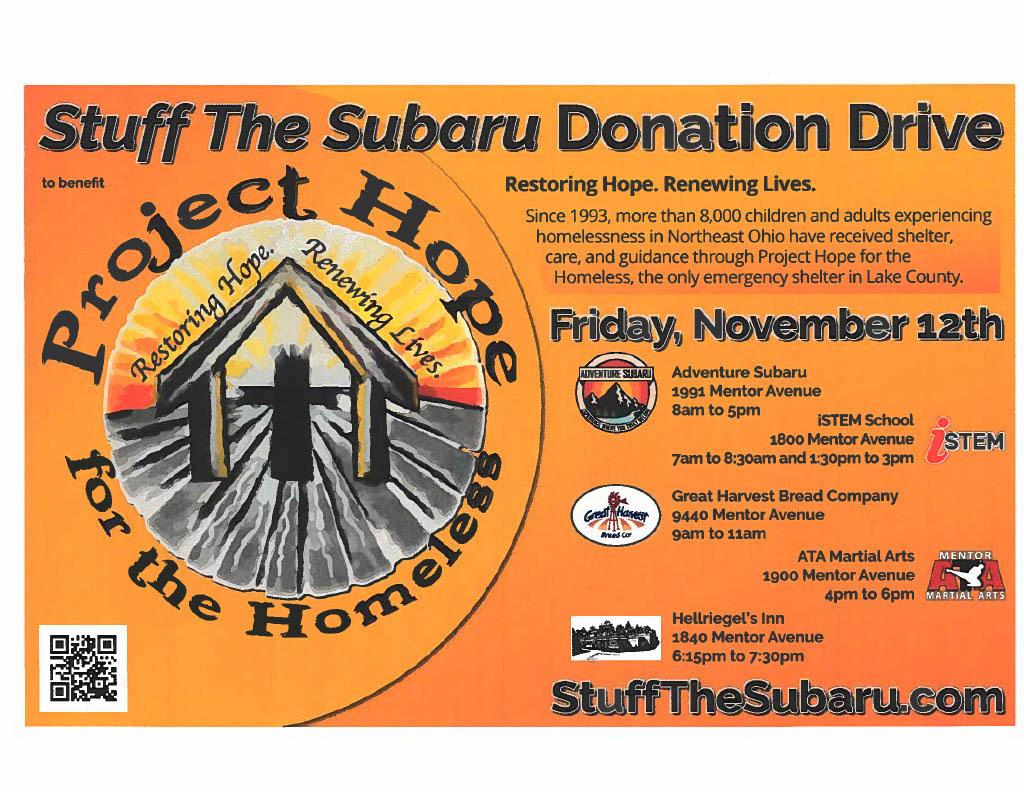 Chemistry students Conner and Lilya are all smiles after successfully completing their performance assessment on chemical bonding by making and analyzing "origami" molecules with different shapes.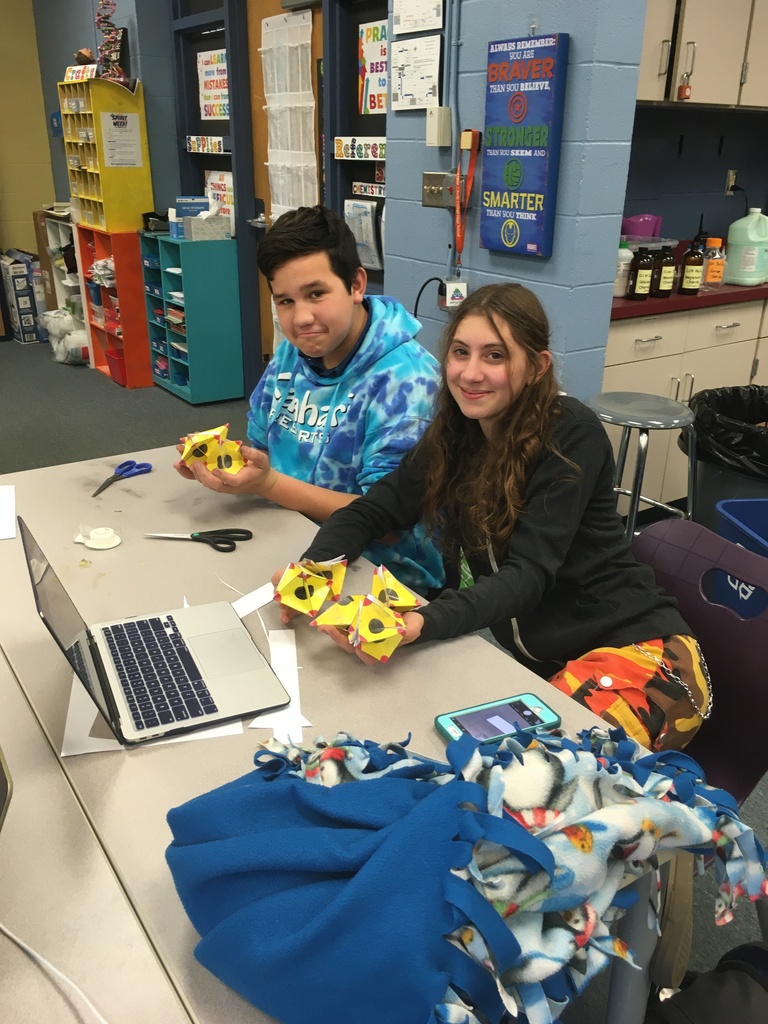 Parents who would like assistance completing the Free Application for Federal Student Aid (FAFSA) have a chance to meet with Stephanie Kubec from LEAF at her Lakeland Office this Thursday, October 28th from 10:00 - 1:00. Appointments are required. Please email her at
skubec@leaf-ohio.org
. LEAF's office is located in Building C, Room 2048 on Lakeland's campus.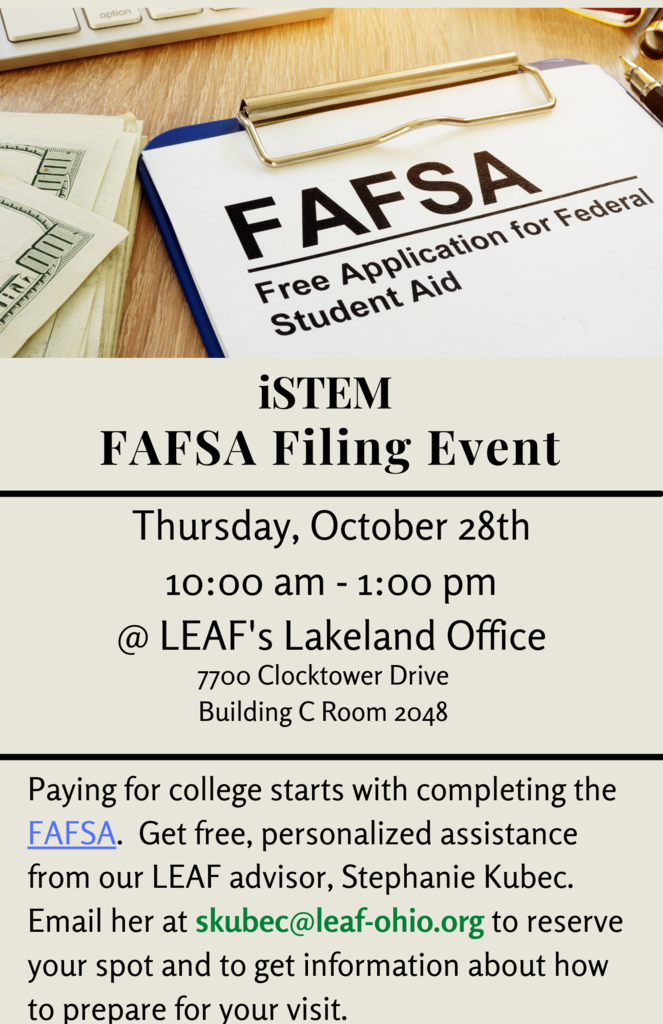 Get in the iSTEM spirit by participating in our annual Spirit Week Celebration during the Week of October 25th - October 29th!
iSTEM is hosting its first ever FAFSA Filing Event. Students applying to college should also be submitting a Free Application for Federal Student Aid. The application opened October 1st. Our LEAF advisor will be at iSTEM October 23rd from 10:00 am - 1:00 pm to provide assistance with the application. Space is limited and registration is required. Open this document for the registration link and for more information:
https://5il.co/10bcx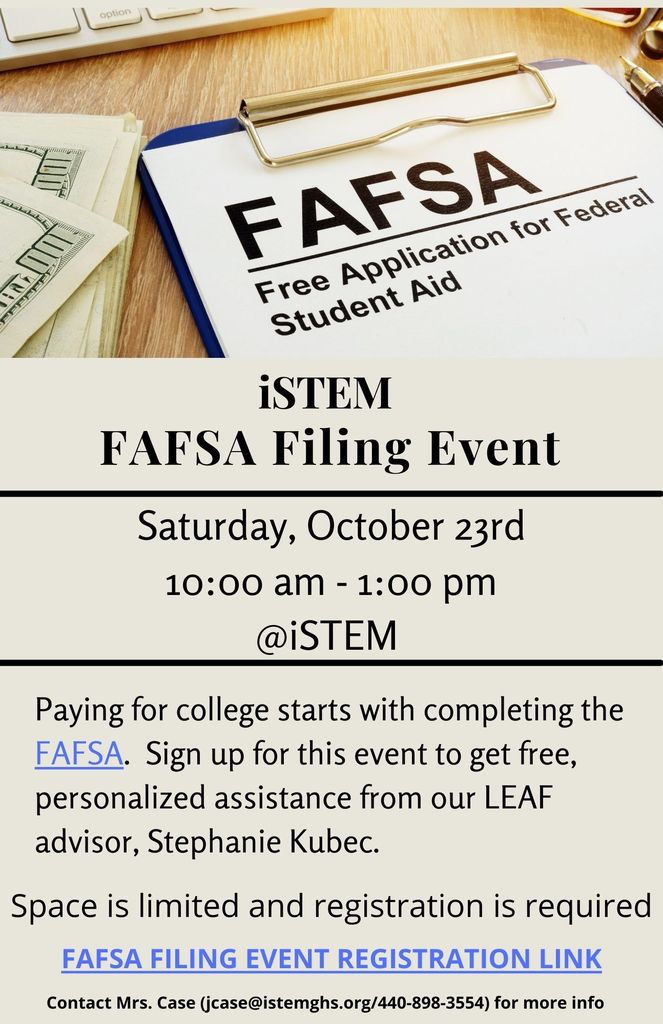 Lakeland CCP Advisors will be at iSTEM to meet with current CCP students on Friday, October 22nd from 8:00 - 2:30. Students can access Lakeland's CCP Registration form at Lakeland's website, the school counseling section of iSTEM's website or outside of Mrs. Case's office. Students must have an appointment to meet with an advisor. Sign up here:
https://forms.gle/uDbC1gmy3aKErcBLA
Ms. Cornman and her 8th grade STEM class enjoyed the benefits of learning the science behind making ice cream.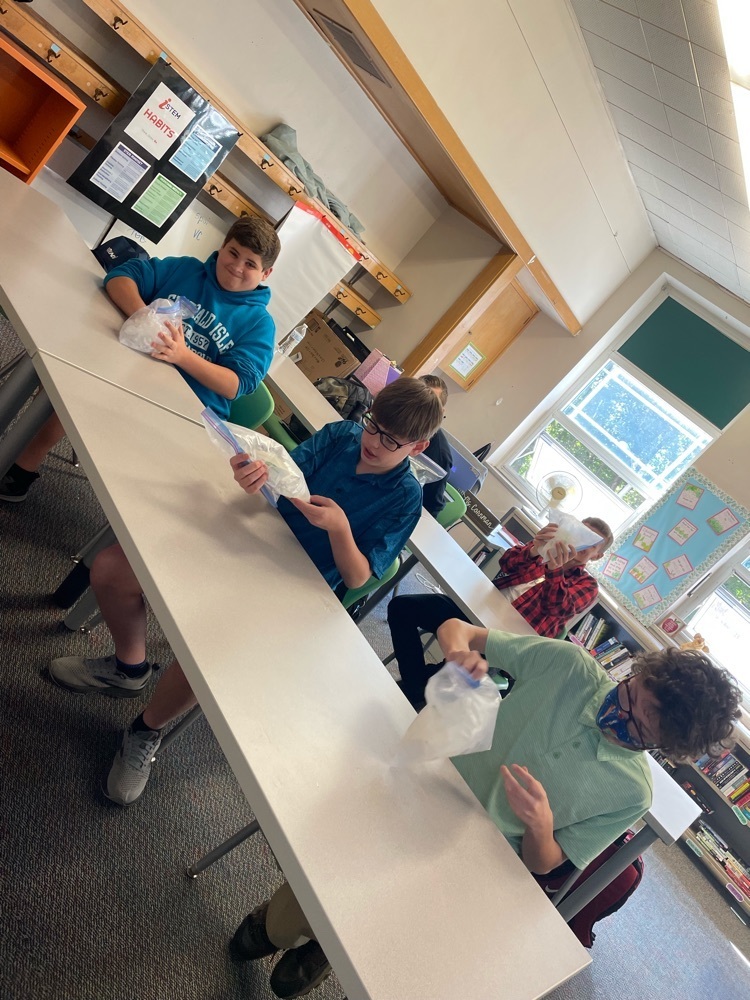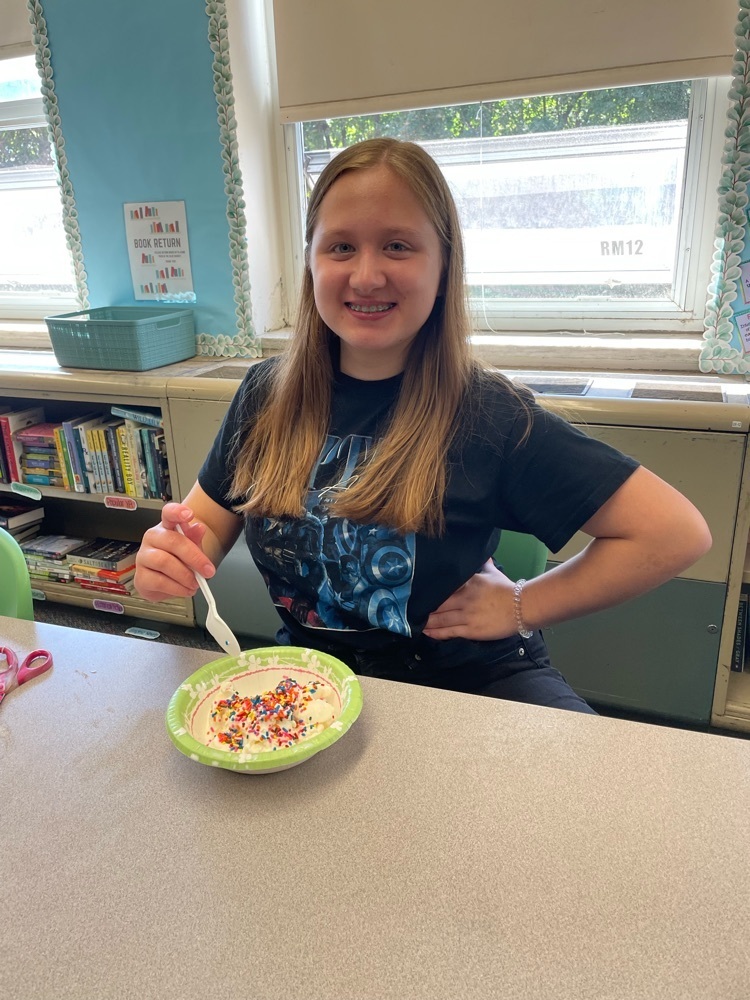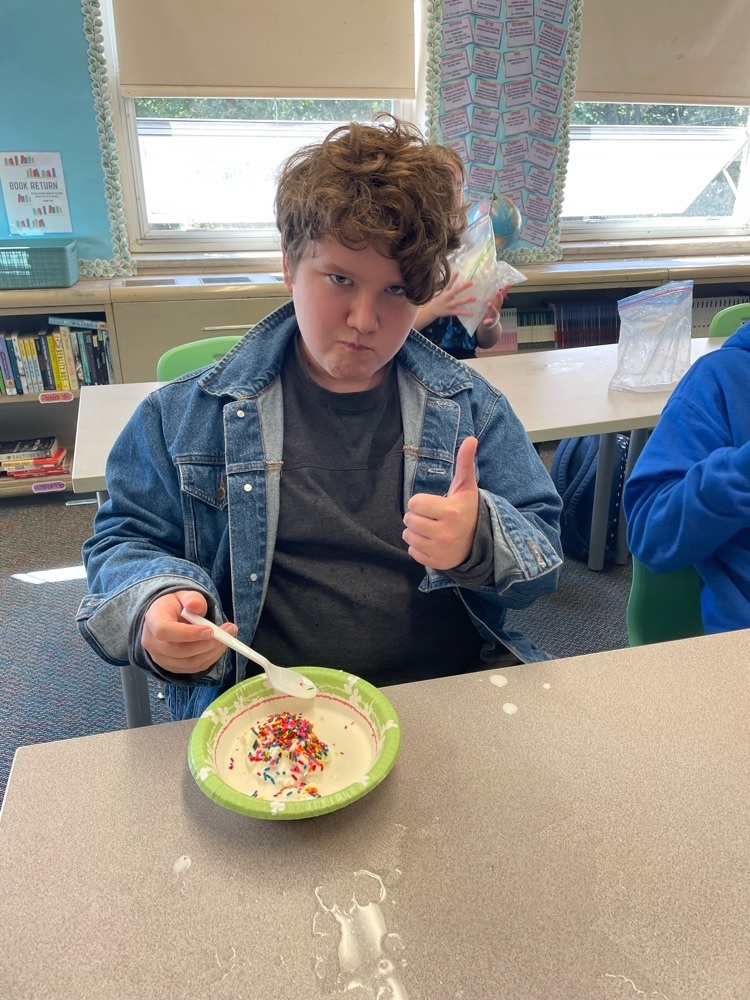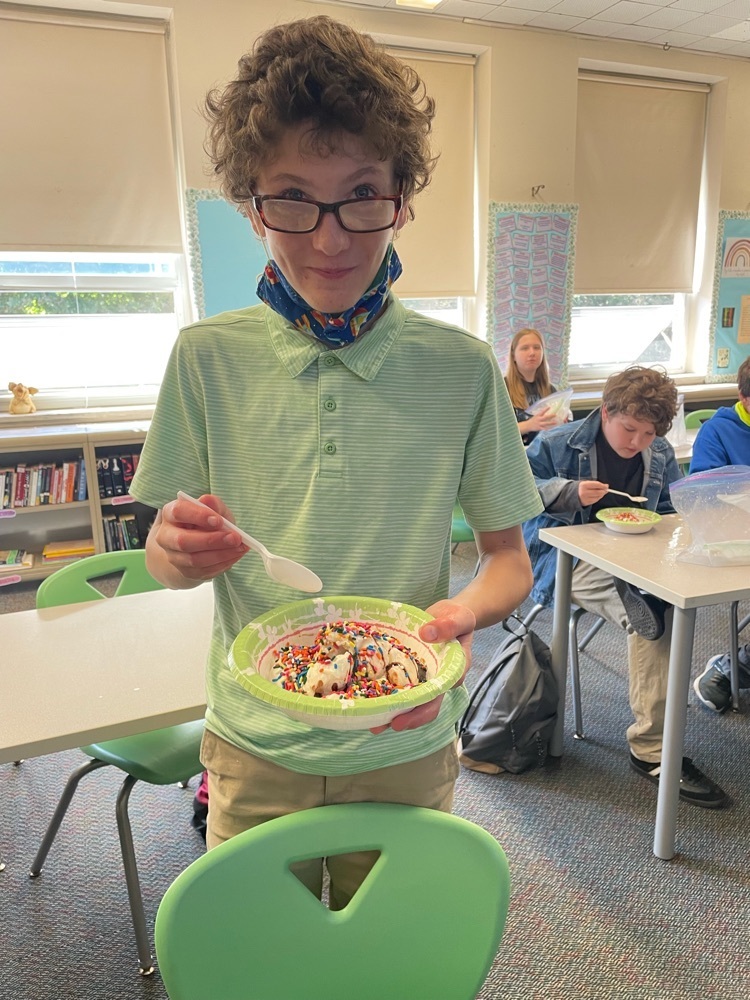 Tin Twinning Anyone? Dr. Falin's Material Science class poured molten tin into bars to study the phenomenon of tin twinning.
Ms Young's American History class holds their "Day in the Square" re-enactment.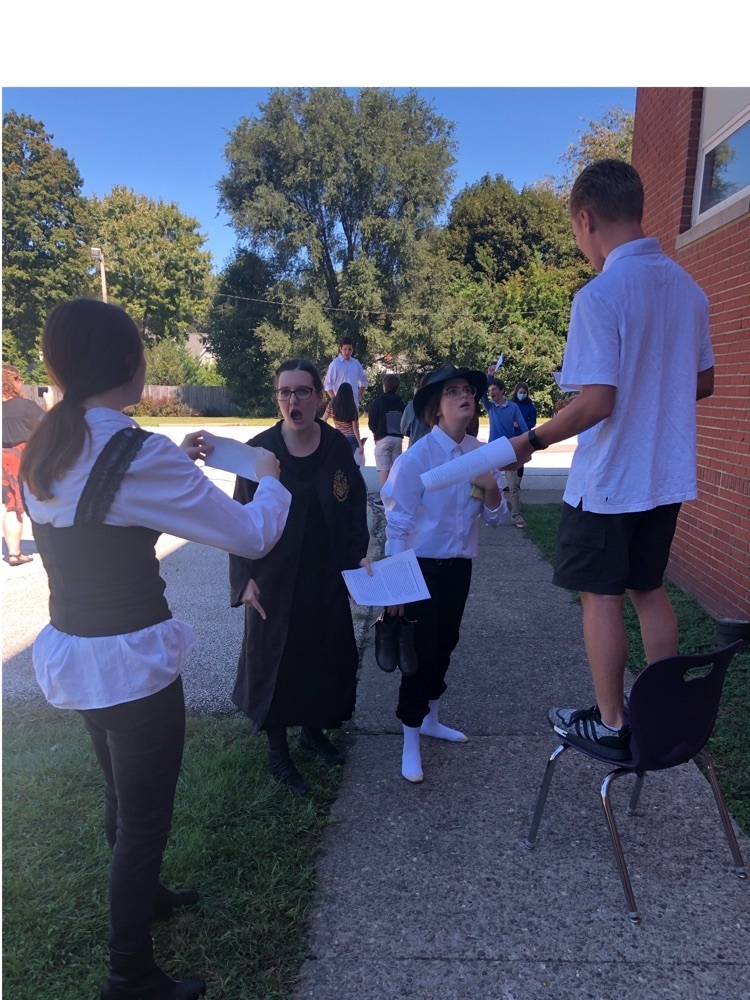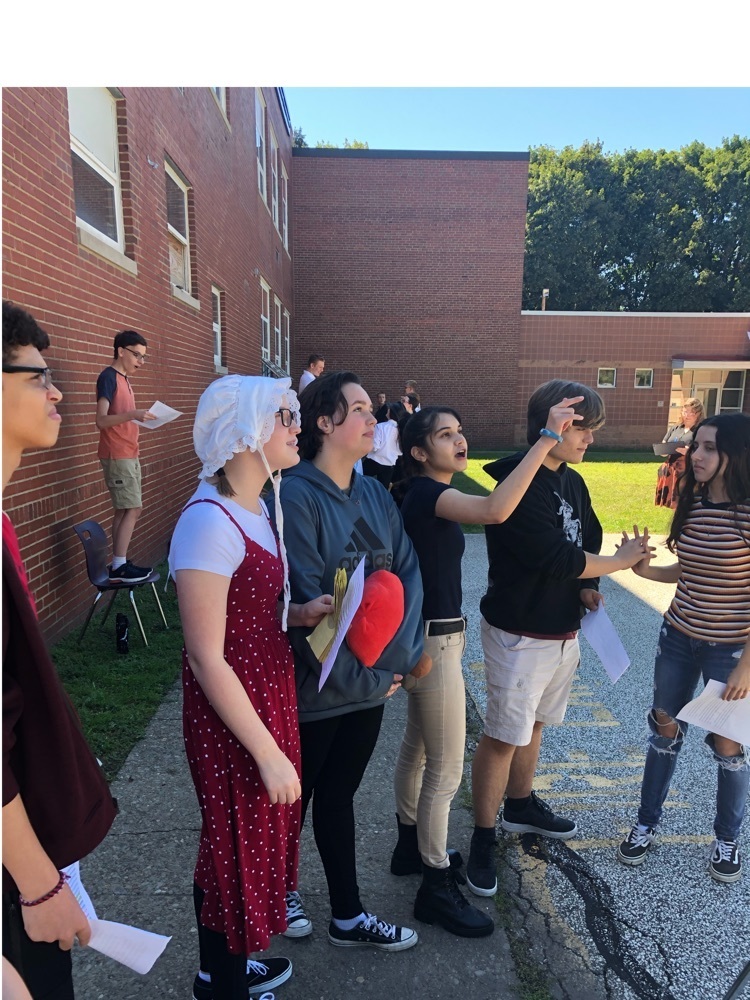 iSTEM is hosting a Financial Aid Information night presented by our partner, LEAF Ohio. This presentation is aimed at senior students and parents but is open to all. Learn about the FAFSA application, how schools award financial aid, scholarships and more. This is a virtual event being held on Sunday, September 19th at 6:30 pm. The link to the event will be emailed to students and parents.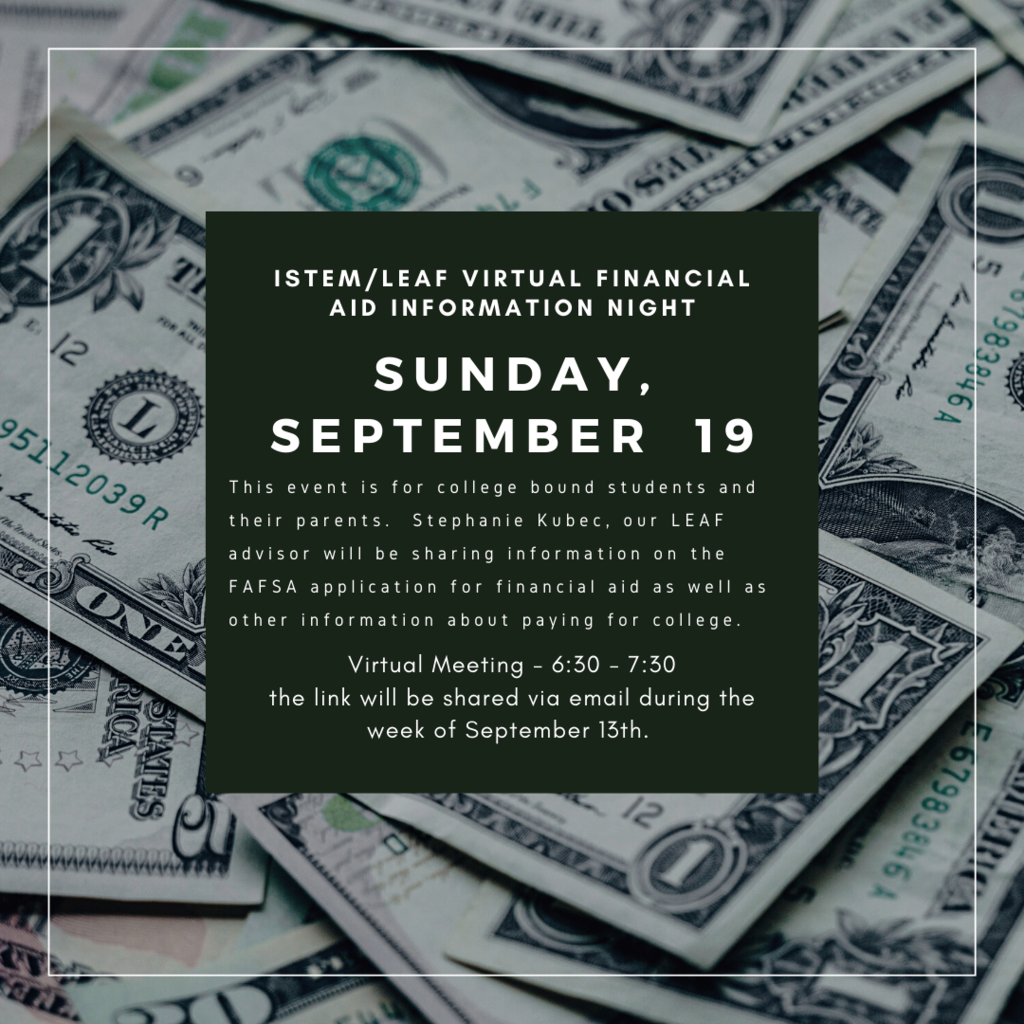 iSTEM is represented at the International Space Settlement Design Competition this weekend at the Kennedy Space Center. We wish our team members the best!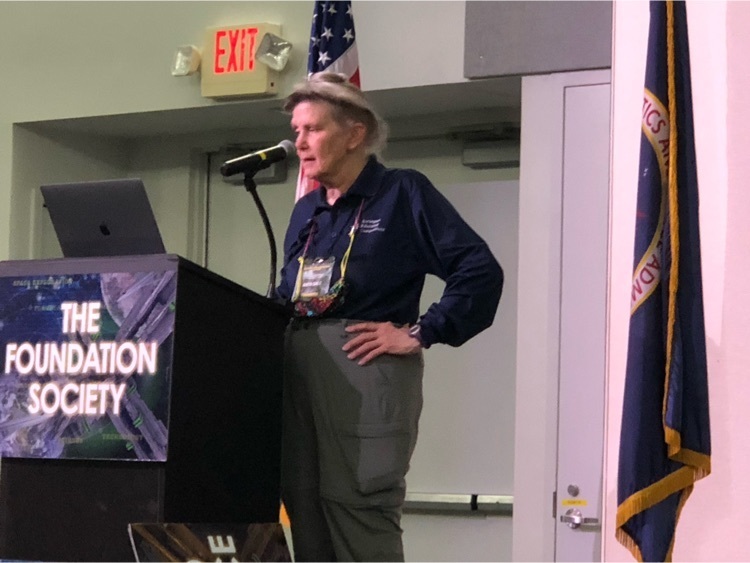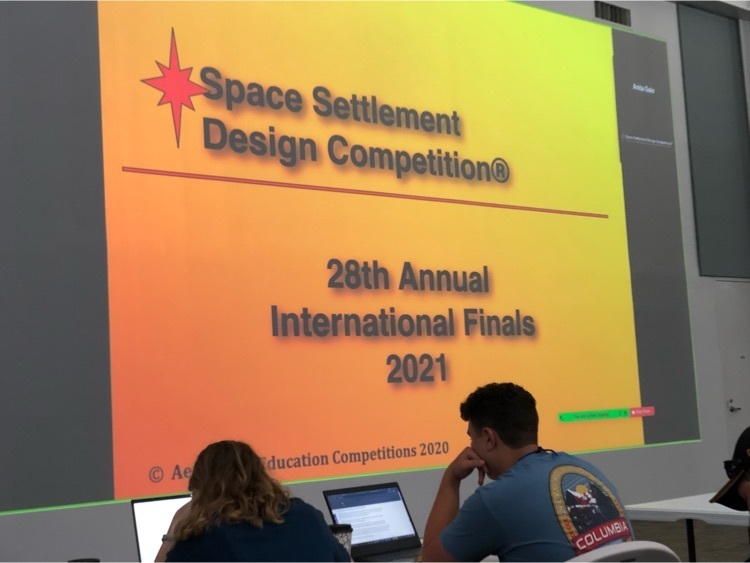 Congratulations goes out to the entire iSTEM community! ISTEM has been granted STEM Designation by the Ohio STEM Designation Committee for grades 6, 7, and 8. We'll be welcoming 8th grade students this school year and 6th and 7th grade students for the 2022/2023 school year. It's not to late to enroll for the upcoming school year, with a few spots still available for interested 8th grade students for the upcoming school year. If interested contact the iSTEM office at 440-898-3283. The application window for 6th - 9th grade for the 2022-2023 will open in October 2021. Watch for more details. CONGRATULATIONS!

Congratulations to the Class of 2021! We are proud of how much you have grown these past four years, as scholars and people. We wish you the best with your future plans, and hope you remember us when you are all successful because of your personal agency, collaboration and communication, and STEM mindset! #istemghs #classof2021